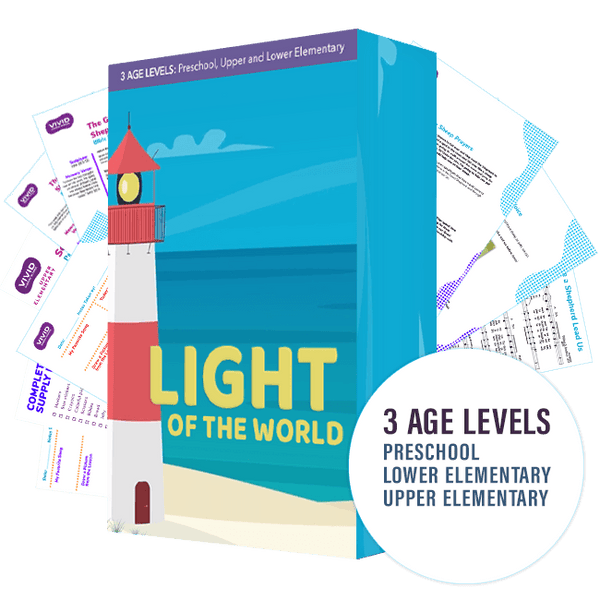 The Light of the World
Jesus is the one true Light. We are His witnesses.
Similar to John the Baptist preparing the way for Jesus, we, too, are His witnesses. But instead of sharing who is to come, we have the joy of sharing that Jesus has come and invites all into a relationship with Him.
"There came a man who was sent from God; his name was John. He came as a witness to testify concerning that light, so that through him all men might believe. He himself was not the light; he came only as a witness to the light." John 1:6-8
This Bible lesson comes packed with the materials you need to teach 3 age levels (preschool, lower elementary, and upper elementary). Download this package immediately and get everything here:
Children's sermon for upper elementary students
Children's sermon for lower elementary students
Children's sermon for preschoolers
Teacher devotion & Bible background
Teacher instructional video
Animated Bible lesson video
Supply checklist
Memory verse
Bible interactive experience
Crafts and activities
Group activities
Worship experience (lyrics and chord sheet)
Parent handout
This lesson is part of Christmas: The Gift That Keeps on Giving, a 5-week Advent Sunday School lesson pack all about the birth of our savior. Download the full lesson pack today or grab the 52-week curriculum bundle and get weekly Bible lessons for all ages.
DIGITAL DOWNLOAD: This product is a digital download that does not include shipping because there is no physical item.
You'll receive an email with a link to download your curriculum once you've purchased it. Everything is enclosed in a ZIP file that you may access from your device, allowing you to get started right away.